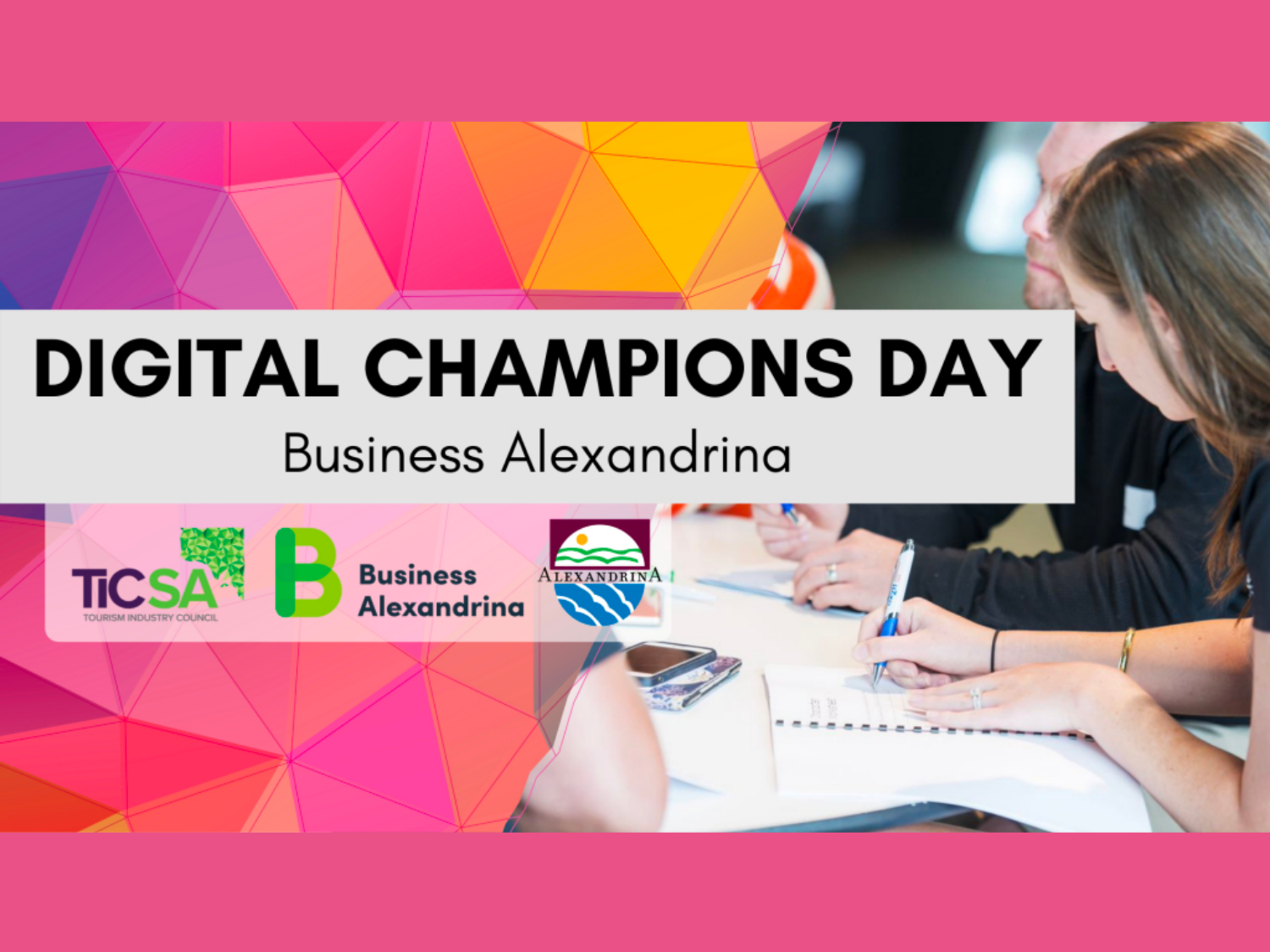 Digital Champions Day - In this exclusive full-day conference in partnership with
Business Alexandrina
, hear from a number of industry professionals on a range of topics, with a focus on Websites, Social Media, Marketing, Review Pro and the Law.
With the rapidly developing world of technology, social media and online presence, now is the perfect time to be developing your business' online strategy.
By understanding your marketing and social media strategy, and laws behind social media, before taking action, you can secure your competitive advantage and save significant time and money in the process.
Topics covered are as follows:Marketing
Benefits of Online Marketing
Components of Online Marketing
Distribution Channels
Email Marketing
SEM + SEOs
Managing and Monitoring you online activities
Google Ads
Google Analytics
Joining associations/partnerships
Social Media
Understanding Social Media Platforms
Importance of Social Media Presence
Advertising via social media
When and how to use social media for promotion
Analytics
Scheduling & Frequency
Customer Reviews
The Law (Social Media)
Taming the wild west: How the law applies online (including to social media and websites)
Copyright: Do you know what you own?
User-generated content, influencers and misleading conduct
Competitions on Social Media
Review sites
Employee use
Responsibility for content posted online
Websites
Creating a website that works
Importance of Website
Web Development
Website Essentials
Managing your website
Review Pro
What is Review Pro?
Benefits
Online reputation management
Online consumer ratings
Global Review Index (GRI) generation
Conference Details:
Trainers:

Marketing, presented by Lynda Schenk
Social Media, presented by Simone Douglas
The Law, presented by Paul Gordon
Websites, presented by Scott White
Review Pro, presented by Rebecca Uphill
When:
Tuesday, 17 May | 9:00am - 4pm
Where:
Lake Breeze Wines | 319 Step Road, Langhorne Creek SA 5255 AU

Investment:
$20 – Alexandrina Region / $40 – Outside of Alexandrina Region & TiCSA Member / $80 - Outside of Alexandrina Region + Non TiCSA Member
Lunch, morning tea and afternoon tea catering supplied.